Searching for a condo or home in Plantation?
If you're looking for a new place to call home and are not familiar with the neighborhoods throughout Plantation Florida, take a few moments to browse through the many Plantation communities to learn more about individual neighborhoods and communities located here. Of course, we'll be happy to save you some time in finding your next home... simply fill out our home wish list form and we'll let you know which condos, villas, townhouses or homes meet your preferences. We know how valuable your time is and the information you provide us with helps us search out just the right properties to show you.
We also understand that sometimes people prefer to browse MLS listings on their own so we provide an option for you to do just that and perform your own Plantation Florida MLS listings search. When you come across one or more homes, townhouses, villas and/or condos you'd like to see, request a showing and we'll make the necessary calls to show you those properties in person.
Whether you're looking for an affordable condo or house, a home with a large lot, a luxury waterfront home, want to live in a gated community or simply need to locate a pet friendly condo, we can assist you. We know Plantation Florida real estate well and we're here to help you.
As professional Plantation Florida Realtors, we are familiar with the local real estate market and we can assist you throughout the entire process of searching for a new home, negotiating an offer and all the details along the way until closing date. If you haven't already been pre-qualified or pre-approved for a mortgage, we can help you with that, too.
If you're looking for Broward County short sale listings, we can help you find the right one.
NEWSLETTER: Whether you're ready to buy or sell, sign up for our free real estate newsletter.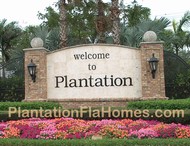 Plantation... a great place to live!
View a virtual tour of Plantation, Florida!
Location: The City of Plantation is located in the heart of Broward County and covers over 21 square miles. Plantation is surrounded by Fort Lauderdale to the east, Davie to the south and Sunrise to the north and west. Plantation is known throughout South Florida for it's annual Art in the Park event.
Employment: Several major employers including Motorola, American Express and Merrill Lynch have called Plantation home for many years and we continue to attract more businesses every year.
Education: The quality of education is a priority to many residents in Plantation. As a family-friendly city, our educational offerings run the gamut from day care centers to both public and private elementary, junior and high schools. Anyone interested in furthering their education has several options to pick from, many of which are located within a short drive.
Shopping: The shopping districts around Plantation are varied and each offers something for everyone. From the large shopping malls such as the Fountains Shoppes of Distinction and the Westfield Broward Mall to the more local shopping centers offering a special blend of retail, service, and eateries -- you're likely find what you're looking for.
Quality of Life: One of the nice residual benefits to Plantation's location is that it is just a short distance from much of what South Florida has to offer in the way of arts, entertainment, parks and recreation.
Thinking of selling your Plantation FL home?
If you own a home in Plantation Florida and you're thinking of selling it, we use multiple marketing techniques that create maximum market exposure for your home so that it may sell in the least amount of time and for the best price possible. Find out what your Plantation home value is in today's market by requesting a free CMA (comparable home analysis). Let us do the research and discuss our findings with you confidentially.
If you're considering selling your Plantation FL condo, villa, townhome or house and trying to decide which Plantation area real estate agent to list your property with, compare our home marketing plan with others and you'll see some of the ways we can make a difference when you're ready to sell your home. We go above and beyond the average so that your property is presented in a professional manner to anyone who sees your home on websites or the MLS.
If you list with us, we can also offer you suggestions on how to home stage your property so that it can appeal to the greatest number of prospective buyers. As experienced Plantation FL Realtors, we know what buyers tend to prefer and a few (usually minor) changes can sometimes make all the difference when it comes to selling your home quickly and for top dollar in today's market.
Do you find yourself in a situation where you need to relocate and sell your home but you're upside down on your mortgage and owe your lender more that your house is worth? We work with short sales in Broward County and can assist you in trying to avoid foreclosure by short selling your home. In most cases, a short sale is a better alternative than letting the bank foreclose on your house. Simply take a few moments to complete our Plantation FL home values request form and we'll contact you to discuss our findings.

Home | Search MLS Listings | Home Wish List | Plantation Communities | What is Your Home Worth? | Buyer Guide | Contact Us
Leanne Paynter • (954) 846-1600 • United Realty Group, Inc.
Broker-Associate • Plantation Florida e-PRO Certified REALTOR® • Graduate Realtor Institute
Member National Association of Realtors (N.A.R.) • Member Florida Realtors • Member Realtor Association of Greater Fort Lauderdale
Copyright© 2002-2012 Leanne Paynter. All rights reserved. No portion of this web site, including graphics or text, may be reproduced
in any manner without the prior written consent of the copyright holder. By using this site you agree to its Terms of Use and Privacy Policy.
SITE DISCLAIMER: All information contained herein is deemed reliable but cannot be guaranteed. To be certain, you should independently verify. If in doubt, consult with an appropriate professional.
This site features Plantation Florida real estate for sale. Search this site for homes, houses, condos, condominiums, villas, townhomes and townhouses for sale as well as rentals in the communities of Plantation Florida including Alpine Woods, Apple Creek, Arbor Courts, Bela Sera, Bridgewater, Cedar Landing, Chateaulaine, Chatham Towne, Chelsea, Cocoranda, Colonnades, Colony Court at Lago Mar, Coronado, Courtyards at Jacaranda, Courtyards of Plantation, Dahlia, Devon East, Devon West, Entrada, Fairway Cove Townhomes, Fountains of Jacaranda, French Quarter, Gingerwood Place, Grand Marquis, Great Western, Jacaranda Heights, Jacaranda Villas, Lago Mar East / West Lodge, Lago West Cluster Homes, Lago West, Laguna, Lakes at Jacaranda, Lakes of Newport, Lakeview Courts, Lakeview Gardens, Las Haciendas, Lauderdale West, Longwood Village, Majestic View, Malibu Townhouses, Omega Condos, Omega Villas, Optima Village at Fountain Spring, Paragon Plantation, Parc Court, Parc Village, Park Place, Pine Island Villas, Plantation Club, Plantation Forest, Plantation Harbor Point Townhomes, Plantation Manors, Plantation Pines, Plantation Place, Plantation Racquet Club, Plantation Royal, Plantation Terrace, Plantation Trace, Polynesian Gardens, Polynesian Villas, Quatraine, Raintree Forest, Royal Palm, Somerset, Su Casa, Terra Bella, Townhouses at Jacaranda, Townhouses of Plantation, Trellises, Turtle Run, Valmoral, Village Square, Village Townhomes, Villas of Plantation, Vineyards of Plantation, Waterford Courtyards, Westree, Wimbledon at Jacaranda, and Winds at Jacaranda.
This site also features real estate, property, properties, homes, houses, and rentals in Plantation Florida communities including Bayberry Village, Beaumont Estates, Blackhawk Estates, Bravo Estates, Breezeswept Park Estates, Bridgewater, Canterbury, Cedar Villas, Cocoplum Estates, Country Club Estates, Cross Creek, El Dorado Estates, Fairway Cove, Fountain Spring, Fox Run, Golf View Heights, Hawks Landing, Hawthorne Village, Isla del Sol, Jacaranda Cay, Jacaranda Cove, Jacaranda Lakes, Jacaranda Pointe, Jacaranda Royale, Jacaranda Villas, Lago Estates, Lago Largo, Lago Mar, Lakes of Newport, Lakeview Estates, Las Brisas, Lauderdale Golf Estates, Lauderdale West, Marcano Estates, Mayfair, Melaleuca Isles, Mirror Lake Estates, Nob Hill Estates, Patios in the Park, Pebble Creek, Plantation Acres, Plantation Gardens, Plantation Golf Estates, Plantation Harbor, Plantation Hills, Plantation Isles, Plantation Landings, Plantation Palms, Plantation Park, Plantation Point, Plantation Secluded Gardens, Plantation Sunrise Heights, Quatraine, Royal Palm Estates, Royal Palm South, Sala del Mar, Saraceno, Saraceno West, Sawgrass Plantation, Sawgrass Village, Sunset Cove, Tropical Estates, Ventana, Village Gate, Vintage Creek, Waterway Estates, Wedgewood Estates and Westport.
Broward County Home Values : Florida MLS Listings : Broward County Real Estate : Weston FL Homes : Davie FL Real Estate : Cooper City Homes : Fort Lauderdale Condos
Pompano Beach Condos : Boca Raton FL Real Estate : Lake Worth FL Real Estate : Wellington FL Real Estate : South Florida Commercial Real Estate : Broward County Commercial Real Estate : Florida Home Values
Northwest Florida Real Estate : Florida Panhandle Real Estate : Jacksonville FL Real Estate : Marco Island FL Real Estate : Jupiter FL Real Estate : Key Largo Real Estate : Real Estate Agent Directory