Beaumont Estates
Community information including amenities, real estate for sale, photos and more.

Feature Your Home For Sale Here
Compiled by Leanne Paynter [Copyright ©2002-2012] All rights reserved.
All information contained herein is deemed reliable but cannot be guaranteed. To be certain, you should independently verify.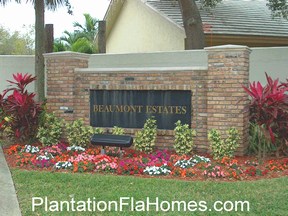 .
Thinking of Selling?
Find Out How to Get Your Home Featured on this Web Site!


Location: South of Peters Rd., North of S.W. 16th St., East of S.W. 66th Ave., and West of S.W. 63rd Terrace

Style: Single Family/Detached, 3+ Bedrooms

Neighborhood Amenities: Seminole Park, Plantation Heritage Park & Pop Travers Park

Year Built: Varies, 1992-2002

Homeowners Association: Yes

Fill out this form to receive information about Beaumont Estates homes for sale in the MLS.