Country Club Estates
Community information including amenities, real estate for sale, photos and more.

Feature Your Home For Sale Here
Compiled by Leanne Paynter [Copyright ©2002-2012] All rights reserved.
All information contained herein is deemed reliable but cannot be guaranteed. To be certain, you should independently verify.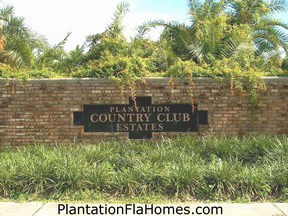 .
Location: Plantation, Florida -
South of Broward Blvd., North of SW 8th St., East of Country Club Circle, & West of 441/State Road 7

Style: Single Family/Detached, 1-2 Story,
3-7 Bedroom, 1.5-4.5 Bathrooms,
0-3 Car Garage

Neighborhood Amenities: within walking distance to Fort Lauderdale Golf Club.

Year Built: Varies, 1955-1971

Homeowners Association: No

Fill out this form to receive information about Country Club Estates homes for sale in the MLS.